University Press of Mississippi – April 1, 2003
Helnwein speaks with Carl Barks
Barks may be history's most widely read anonymous storyteller. When he wrote and drew the Donald Duck comic books in the 1950s, they had an estimated monthly readership of more than 10 million, and the only real person's name that appeared on the comic was Walt Disney. The lovingly drawn stories, encompassing uproarious comedy and rousing adventure, also expanded Donald's one-note animated-cartoon personality and introduced Donald's magnificent skinflint uncle, Scrooge McDuck.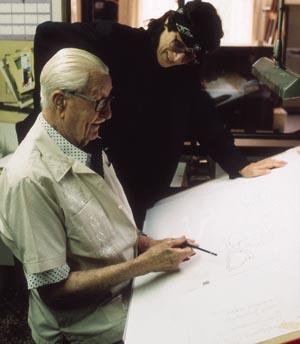 In keeping with Barks' obscurity, the 24 interviews collected here come from small-circulation fanzines or are first publications. The earliest was conducted in 1968, after Barks' retirement; he lived another 30 years, painting fine-art renditions of the Disney ducks. In the interviews he veers from seeing himself as a nameless hack to revealing how seriously he took his work. His anonymity allowed for no reader feedback, and when he received his first fan letter in 1960, he thought it was a fellow cartoonist's joke. He probably would have been bemused yet impressed by this tribute to his work's lasting significance.
Gordon Flagg
Gottfried Helnwein and Carl Barks in Grants Pass, Oregon, July 11, 1992:
Helnwein:
"How would you like the idea of building an actual Duckburg one day?"

Barks:
"Who can tell what Duckburg really looks like?"

Helnwein:
"If one studies your work carefully, there are a lot of indications. The money bin for example."

Barks:
"Yeah, the money bin is perhaps the outstanding building in Duckburg. But I remember one in which the opening panel was a picture of the ducks up on top of a sky-scraper, looking down onto a busy city with tall, mighty buildings, a wide river and steamboats..."
Helnwein speaks with Carl Barks, University Press of Mississippi, 2003